2021 MRWA Fall Conferences Exhibit Setup
Exhibitor registration for the conference is closed. To be placed on a waiting list, please contact the MRWA office at 573.657.5533.
See you at the Lake!
EXHIBITORS TENTATIVE AGENDA 
MONDAY – OCTOBER 25
Booth set-up at 9:00 am with exhibit area closing at 5:00 pm. Social for Exhibitors Only at 5:00 pm…our way to thank YOU for choosing to exhibit with us. We'll have snacks, soft drinks, and even crack open a keg of beer for your enjoyment. No attendees allowed, just MRWA staff and you. Your chance to tell us what you like about this show, working with us in general, and how we can improve.
TUESDAY – OCTOBER 26
Exhibit hall opens at 7:00 am to Office Professional attendees with breakfast. Lunch and all breaks will be served in the exhibit area.
WEDNESDAY – OCTOBER 27
"Networking Wednesday"! You can do your own thing or choose from the MRWA events: Fishing Tournament and Trap Shoot!  If you'd rather golf, you will have access to both golf courses at the MRWA conference rate. Don't worry, you don't have to tear down your booth, the exhibit hall will be locked so your items will be safe. The Exhibit Hall Grand Opening will begin at 6:00 pm for the attendees of our Fall Operations & Maintenance
Symposium.
THURSDAY – OCTOBER 28
Exhibit hall opens at 7:00 am to attendees of the Fall Operations & Maintenance Symposium. Breakfast, lunch and all breaks will be served in the exhibit area. At the
conclusion of Thursday's final break at 3:30 pm, exhibitors will need to tear down their booths. We do ask that your booth remains up during all open exhibit hall hours.
As always MRWA will have tons of food, prizes and fun! We hope that you like the idea of Networking Wednesday and choose to participate in some or all of our events.
Hotel Information
Sleeping rooms are now available at The Lodge of Four Seasons for you to book for the show. MRWA has acquired a group rate of $111 per night but our group block only remains open until September 24, 2021, so hurry and book your room today.
For reservations, call:  888.265.5500
The group rate is in effect two days prior and two days after the conference.
Please visit their website, www.4seasonsresort.com, for additional information on activities and services and maybe you'll want to spend some extra time relaxing after the conference.
If there is no availability at the host hotel, the Lodge at Port Arrowhead is honoring the MRWA rate during the conference.
Reservations can be made at 573.693.9988. Make sure you mention you are exhibiting at the MRWA Conference for the conference rate.
Want to increase traffic to your booth? Let us know you'd like to be included in this year's MRWA BHE Scavenger Hunt!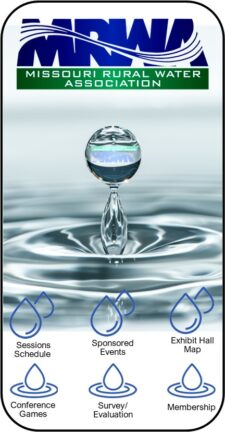 Contact:
Andy Bowman
MRWA Marketing Coordinator
573.714.3186
NEW THIS YEAR!!
The NEW & IMPROVED MRWA Conference App!!
CLICK THE IMAGE TO DOWNLOAD. FOLLOW ONSCREEN INSTRUCTIONS